Explore the Mountains of Montana on Horseback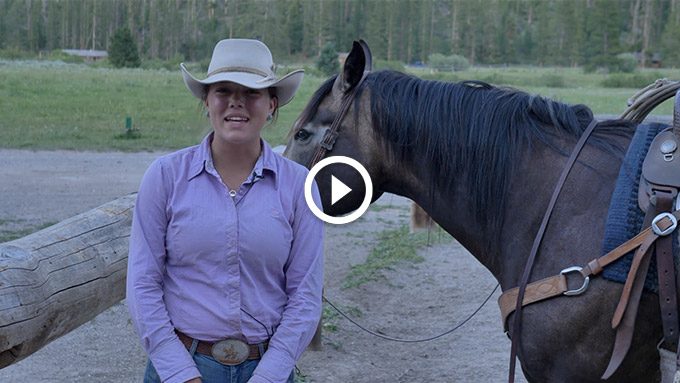 The core of your Montana dude ranch experience. The reason you came. The reason you'll come back.
Even people who come to our ranch determined not to ride end up falling in love with the experience.
Little compares to climbing into the Rockies on a solid mountain horse as miles of views open up before you...
With rides of eight or less, there is time for tips from our horsemen about the country, wildlife and ways to make your riding experience even more enjoyable.
Your Week on Horseback
No riding experience necessary.
Mariah, our Barn Manager, will match you to a horse that fits your interests and abilities.
You'll likely ride the same horse all week.
Relaxed instruction from our capable wranglers could take you from short, easy rides to long and challenging rides through the course of the week.
Even if you've never ridden before, you'll soon feel safe and comfortable on these mountain-trained horses, at ease to enjoy the gorgeous terrain you're passing through.
Ride a horse from our herd of 100 hand-chosen to suit your abilities
Get instruction to help you feel safe and at ease on your horse
Multiple rides throughout the week will reward you with increasingly memorable views and locations in the surrounding mountain ranges
See wildlife and wildflowers you won't soon forget
Build friendships as you experience Montana's finest horseback riding with new friends and family
Our goal is to show you an amazing experience while keeping safety a priority.
Elkhorn Ranch is certified by the DRA Horse Safety Program.
Riding by Age Groups
Explore Big Sky country with your peers
Although most age groups choose to ride together, you can request family rides.
Peanuts: 6-12
The Peanuts go for carefully supervised rides with the Peanut Butter Mothers, which may include a river swim, a visit to a peanut fort, or a trip to the Bear Caves.
Give your children the confidence to go out on their own and experience something different.
Jets: Teenagers
This age group always has rides full of adventures and laughter.
Watch your teenager thrive as they choose to go on rides with the new friends they make at the ranch.
Adults: Loping and Non-Loping Riders
Most adults progress through the week to make it into the high country where there's an opportunity for wildlife sightings, spectacular views, and wildflower blooms.
With only eight guests or less per riding group, you'll have plenty of chances to get to know one another.